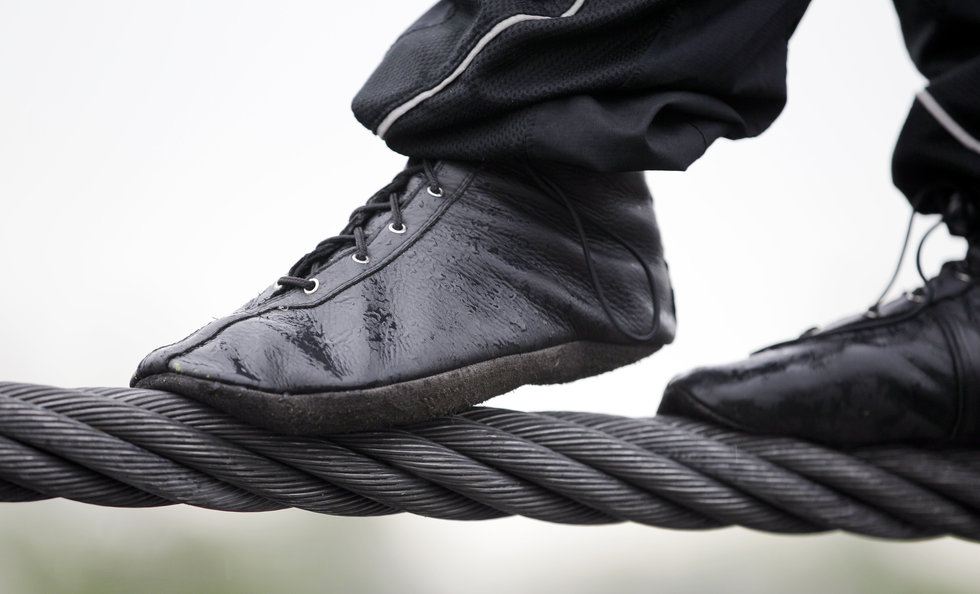 OK, I admit it: I'm a sucker for stunts.
I was one of the guys tuned in to watch Nik Wallenda walk across Niagra Falls on a tightrope and I watched him do his tightrope thing over the Grand Canyon, too (well, near the Grand Canyon). Now, along with the stunts, Wallenda has hit another one of my "soft spots": he has written a business/self-improvement book, "Balance: A Story of Faith, Family, and Life on the Line." Here are some highlights:
Embrace your inner clown.

"The audience marvels at the daring of a trapeze artist," writes Wallenda. "But it is the clown with whom they identify."
Never stop practicing.

"I am aware of the endless need to hustle up work, "writes Wallenda. "At the same time, I improve my skills on the wire. Every day I improve."
Keep surprising customers.

"The road to financial freedom has lots of potholes," writes Wallenda. "What's hot news today is ancient history tomorrow. If a brand is to live, it must undergo continual reinvention."
Politics is personal.

The National Parks of Canada denied Wallenda's 2011 attempt to cross Niagra Falls. "[Now] the member who opposed us most vehemently is no longer on the board," writes Wallenda.
NOTE: According to the book's official description; "Balance is the theme of Nik's life: between his work and family, his faith in God and artistry, his body and soul. It resonates from him when performing and when no one is looking. When walking across Niagara Falls, he prayed aloud the entire time, and to keep his lust for glory and fame in check, Nik returned to the site of his performance the next day and spent three hours cleaning up trash left by the crowd."
Want a copy of "Balance"?
Source: Balance: A Story of Faith, Family, and Life on the Line
(FaithWords) Nik Wallenda; Bloomberg Businessweek 7/8-14/2013